---
Toy Organizer Features

The HXSYD Toy Organizer Collection from Professional Design Team, we combine the features of the game pad and the toy storage bag to creat this wonderful toy buckets for storage!
Perfect for storing building bricks, magnetic building toys, dress up dolls, toy cars and more. Toys slide away for storage in a few seconds with a quick pull of the handles!
All the parts of this toy storage bag stitched together, parents can be very convenient to put a variety of toys and this bag together to organize, do not have to bother to find a variety of toys scattered on the ground, just lift our toy mat can quickly make the room back to cleaning within 5 seconds!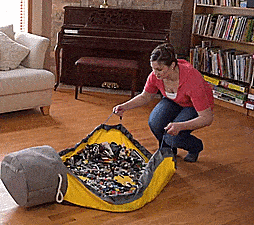 Best Gift for Precious Childrenhood
Make Time Together is our simple reminder for families—you—that these golden moments are yours to seize. Our hope is that our products enrich children's lives through imaginative, creative play based learning.
For kid's childlike and interesting to remain a separate space, children can create a game world according to their imagination and curiosity , and this little world will not let parents worry and anxious, our toy storage bag is your best choice!
Most importantly, whether it's living room, room, courtyard, grass, anywhere can be a children's play space and a toy world!
Toy Bags Attributes
Materials: Safe Polyester Material
Size:12" Tall by 11" Diameter
Applications: Office, Classroom, Bedroom, Bathroom, Living room and anywhere your kids wanna play !
Style: Modern, Classic, Portable