---
Having mold and dirt build-up on the machine can cause a stinky smell on the washer and make clothes have an unpleasant smell. With our Washer Polisher™, you can now easily remove the stinking smell and effectively clean your washer to make your clothes smell fresh and look clean.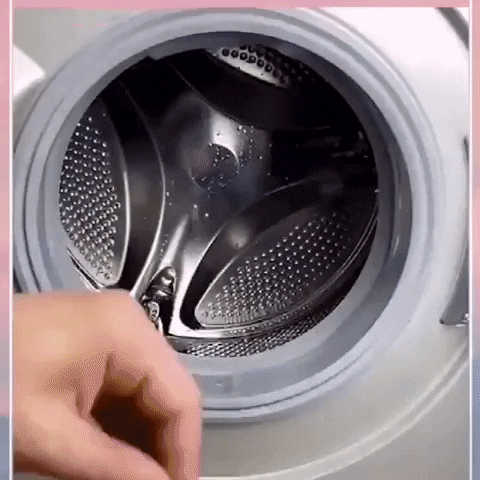 Deeply Cleans Your Washer Without Effort - Our Washer Polisher™ breaks down easily into a deep scrubbing powder when exposed to water that deeply cleans your washer without leaving an unpleasant smell afterward.
Protects Your Washer And Keeps Your Clothes Fresh - Our Washer Polisher™ loosen and wash away built-up grime, detergent, and other things that are causing your washer to stink, protecting your washer and keeping your clothes smell fresh and clean
Can Be Used On Any Kind Of Washer - It doesn't matter whether your washer is a top-loading machine or front loader. Our Washer Polisher™ can help dissolve limescale deposits and keeps your clothes from smelling sour, musty, and unpleasant
Clean Your Washer In 3 Simple Steps - Cleaning your washer is not complicated, especially with our Washer Polisher™ as you can easily do it in 4 simple steps. Just toss 1 or 2 cubes, run the clean or hottest cycle, and wipe any excess residue with cloth and you're done!
Now you can easily remove dirt, mold, and foul smell that's been troubling you and make your washer clean and safe to use so that your clothes can smell fresh and clean with our Washer Polisher™ 
✔️Removes Dirt And Molds
✔️Protects Your Washer
✔️Keeps Your Clothes Clean
✔️Easy To Use
📦 Package Includes
1 set of Washer Polisher™ Washing Machine Cleaner
Irish Supply will ALWAYS send tracking numbers so you can track them every step of the way! Incredible things are worth waiting for! 😉
Don't forget to click the "ADD TO CART" button! Order yours TODAY to save HUGE DISCOUNTS before we run out of stock.
🔒 30 DAY MONEY-BACK GUARANTEE
🔒 FREE NATIONWIDE SHIPPING
🔒 SECURE ORDERING